Shooting games (or STGs, as they are known in Japan), have always taken pride of place in game centers and the hearts of dedicated gamers. Who doesn't remember Space Invaders, the game that in 1978 started it all.
Unfortunately in the last 20 years STGs have become increasingly difficult as developers, in order to please hardcore players, have forsaken the casual players.
Recent STGs can be so complicated that they only attract those dedicated players (someone would call them maniacs) who are ready to invest a lot of time and money to memorize their amazingly intricate patterns (the hardest levels in some games can feature thousands of bullets on the screen at one time).
One such case is the extremely popular
Touhou Seirensen ~ Undefined Fantastic Object
(see screen shot below).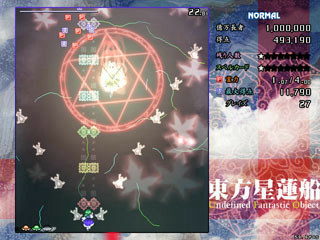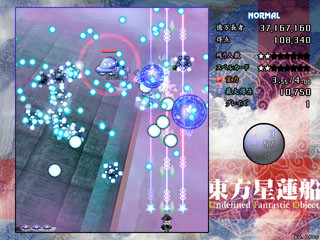 If you are not familiar with this game, you only need to check out its LUNATIC level on You Tube to see what I'm talking about. I would never even clear the first stage but the overall effect is quite mesmerizing.
These games, of course, have their own loyal dojinshi fans as well. One such event is
Hakakura Yahhou!
that this year will be held on September 10 (11:30-15:30) at the Ota-ku Industrial Plaza, on the second floor (Small Hall). You can easily reach this place by train (check here)
http://www.pio-ota.jp/english/pio.html