In Japanese,
manji-gatame
卍固め, meaning "swastika hold," known in English as "octopus hold," is a wrestling hold resembling a
"swastika," manji 卍
, due to the placement of the limbs of the wrestler, with all four knees and elbows bent. There are variants, but essentially:
Left arm locks the opponent's right arm.
Left leg wraps around the opponent's neck.
Right leg wraps around the opponent's right leg.
Right elbow held against the opponent's ribs.
Attacker: Kinoshita Yuuko 木下優子
Receiver: Yoshii Akihisa 吉井明久
Anime: Baka to Test to Shoukanjuu Ni'!, !バカとテストと召喚獣 にっ! (Season 2) (Episode 3, Stitch)
Read more »
In manga and anime, sometimes characters have "four ears,"
yotsu-mimi
四つ耳, in the sense of having "two pairs" of ears,
ni-tsui
二対, that are part of their body.
Generally, this happens when the artist adds a pair of
cat ears
,
bunny ears
, etc. on top of a human character's head that already has human ears or human-like ears.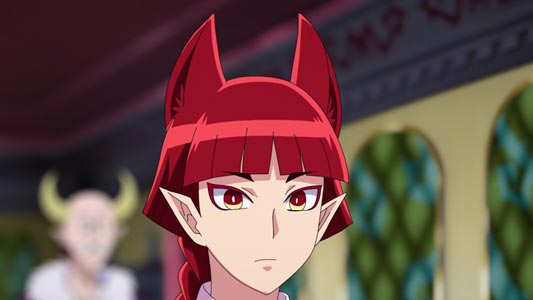 Character: Opera オペラ
Anime: Mairimashita! Iruma-kun 魔入りました!入間くん (Episode 10)
Characters with four visible ears are few, as the lower ears are typically hidden behind hair.
Read more »